Do you want to know how your audience interacts with your website but don't know exactly how to go about it?
In fact, knowing your audiences is crucial for your success especially if you are into affiliate marketing so that you know which country to target with your offers.
The best way to know your audience is through your traffic stats, and it can easily achieve so by using free Google Analytics.
Before we talk about installing Google Analytics let's talk about some of the reasons why it is essential for your website. 
Why is Google Analytics Important For Your Website?
The ultimate reason for you starting your own website is to make money online. Right? And you can accomplish that with more traffic and subscribers. 
You also want to know where your traffic came from and when, how people find your site?
That is what  Google Analytics is exactly doing – it helps you make data-driven decisions by showing you the stats that matter.
In simple words, no more guess-work! You have nothing to lose. Instead, you can even experience a surge of traffic to your website if you know how to use it properly to your advantage.
In fact, MonsterInsights was formerly known as Google Analytics for WordPress by Yoast. WPBeginner's founder, Syed Balkhi, acquired the plugin in 2016 and rebranded it to MonsterInsights.
Advantages Of Google Analytics
With Google Analytics you will be able to know – 
1. Where Your Visitors Are From
It will show you the geographical location of your audience and even the browser they use to visit your site and also other important information such as screen resolution, JavaScript support, Flash support, language, and much more.
This data is extremely useful as you can custom design your website according to the compatibility with your audience.
2. Which Pages Drives More Traffic To Your Website
You can track which pages drive more users to your website, how long they stay, and what is the bounce rate (the percent of users exiting your site on the first visit).
This will help you find your most popular content and also contents that are not doing so well, and what kind of content your users are looking for and enable you to make the required improvement on your post.
3. How People Find Your Website
The analytics shows you how your website was founded by your users like from  Search Engines, Social Medias, Direct Links, or Referral links from another site. This data will help you to focus more on the sources of your traffic.
Suppose, if your main traffic sources come from Facebook, you can create more attractive content to increase your traffic.
4. Which Time Of The Day Drives More Traffic To Your Website
This data will show you the most engaging times of your users and you can pick that time to publish your posts.
In case, your users' time zone is not compatible with yours, schedule your post to be at par with the most engaging hour of your readers.
5. Behaviour Of Your Users With Your Content
Google Analytics will show how your users interact with your site's content. It shows you what percent of the user clicked on which link on your site.
Alright, now that you know what Google Analytics is all about and how effective it will be when you use it, let's get on to the step by step process on how you can incorporate it into your website and benefit massively from it! 
How To Sign Up For Google Analytics
As we mentioned earlier, Google Analytics is freely accessible to everyone. Follow this simple step by step guide to creating your account.
STEP 1:
You need a Google or Gmail account to sign up. If you don't have one you can create it here. And if you already have a working Gmail account head on to  Google Analytics.
STEP 2: 
Once you sign in with your Gmail account, you will be prompted to a screen like the one below. This is where you will sign up for Google analytics with your Gmail account.
After that, you will be asked to provide an account name. You can use your business name or any name of your choice as this is for internal use only.
STEP 3: 
On the next screen, you will be given the choice to choose between a website or mobile app or Apps and Web together. Then you select the website.
After that, you need to enter the website name, website's URL, country, and time zone. Now, the time zone is not for the users, but your country's time zone.
Once you have entered all the necessary information, click on the Create button. Then you will see the Google Analytics terms and service which you must agree to, so click on the 'I Agree' button.
STEP 4: 
Now, you will be able to see your Google Analytics tracking code. And what you have to do is copy this tracking code because you will need to enter it in your WordPress site.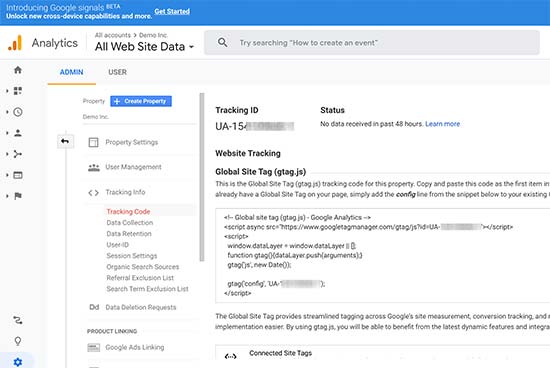 You may leave the analytics browser tab open as you may need to revisit it, once you have installed the code on your WordPress site.
Right there. You have set up your Google Analytics account. Now, what you need to do is install it in your  WordPress. If you are all set, let's go ahead. 
How to Install Google Analytics in WordPress With MonsterInsights
MonsterInsights is the most popular Google Analytics plugin for WordPress. It is the easiest and by far the best way to add Google Analytics to your WordPress, even for beginners. 
MonsterInsights is available as both, a paid premium plugin, and a free version. In this tutorial, we will be using the MonsterInsights free version.
You can use the MonsterInsights Pro version if you want more advanced features like e-commerce tracking, Ads tracking, Author tracking, etc. The process of setting them up is the same.
The first thing you need to do is install and activate the MonsterInsights plugin.
After you activate it, the plugin will add a new menu item labeled 'Insights' to your WordPress admin menu. Clicking on it will bring the MonsterInsights setup wizard.
First, you will be asked to choose a category for your website namely a business website, blog, or online store. Select one of them and click on the 'Save and Continue' button. 
Next, you need to click on the 'Connect MonsterInsights' button.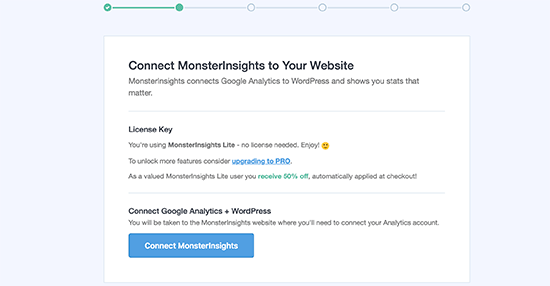 This will bring up a pop-up that will take you to Google accounts where you will be asked to sign in or select a Google account if you are already signed in.
Next, you will be asked to allow MonsterInsights to access your Google Analytics account. Click on the 'Allow' button to continue.
The final step is to select the profile you want to track. You need to select your website here and then click on the 'Complete authentication' button to continue.
MonsterInsights will now install Google Analytics on your website. After that, you will be asked to select the recommended settings for your website.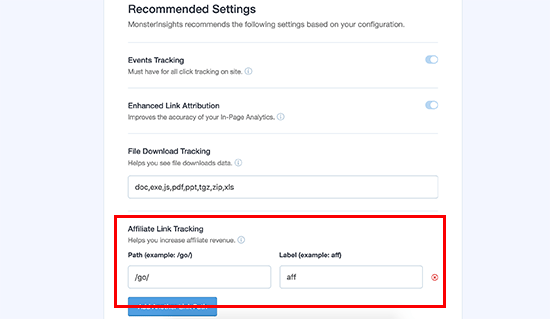 The default settings would work for most websites. If you use an affiliate link plugin, then you need to add the path you use to cloak affiliate links. This will allow you to track your affiliate links in Google Analytics.
Click on the Save and Continue button to save your settings.
Next, MonsterInsights will show you paid add-ons that you can access if you upgrade to PRO. Or you can click on the 'Save and Continue' button to skip this step. 
After that, you will be asked to install the WPForms plugin, which is one of the best and easiest to use WordPress contact form plugin. You can install it or simply click on 'Skip this Step' if you have already used one.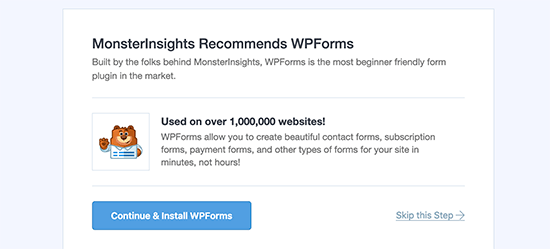 That's it. Now,  you have successfully installed and set up Google Analytics on your WordPress site. It is important to note that Google Analytics will take some time before showing your stats.
The best part about MonsterInsights is that you can view your Google Analytics reports inside your WordPress dashboard.
All you have to do is just go to Insights » Reports. And lo… you will get a quick overview of your analytics data. Superb, right?
2. You will not be able to do advanced tracking configuration, and you will not be able to view Google Analytics data in your WordPress dashboard. 
Here is how you can install it. 
First, you need to install the Insert Headers and Footers plugin and activate it. Now, go to the Settings > Insert Headers and Footers. 
Here you need to paste the Google Analytics code that you copied in step 4 into the header section.
Then, click on the Save button to save your changes and that's it.
That's all, you have successfully installed Google Analytics on your site. 🙂
If you are familiar with coding, you can also install Google Analytics by manually pasting it in the header.php file. However, this method will disappear if you update your theme or switch to another theme. 
Conclusion
Google Analytics is an amazingly powerful tool with tons of awesome features that help you in improving and driving traffic to your website without the guesswork as you work on the data it provided you with.
It is much more convenient to use when used with MonsterInsights as you can see the analytic reports from your WordPress dashboard itself without the unnecessary headache of logging into your Google Analytics account separately!
I personally feel it is a must-have for all website owners who wanted to scale up in their business.
DISCLOSURE: This post may contain affiliate links, meaning I will get a small commission if you make a purchase through my links, at no cost to you. For more info, please read my Affiliate Disclaimer.
Did You Find This Guide Helpful?
Sharing Is Caring! Show Your Care By Sharing This Post With Your Friends.
Also Sharing Your Views Or Experiences In The Comment Section Below Would Be Highly Appreciated!
MLian's passion for writing is to help you understand that 'All That Glitters Is Not Gold'. Her mission is to show you Practical and Actionable Ways To Earn Money online and offline to save your time and money – that you won't get "SCAMMED" into buying something that promises Big but really doesn't profit anyone except the owners.